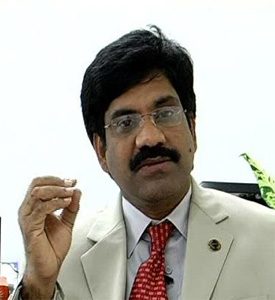 Dr. Madhu is a perfectionist in artistic designing of hair line which mimics the natural hairline.He has number of successful hair transplant surgeries under his name with many more to come.
Dr.Madhu with many degrees under his name, Dr. Madhu is a distinguished Dermatologist, hair restoration expert and a Trichologist with twenty years of experience. Dr. Madhu is a passionate surgeon who has been a boon to the country for the people suffering with baldness. He has been doing hair transplantation for the last ten years and has achieved expertise in this realm. His passion can be reflected from the fact that he is India's first hair transplant surgeon to have received the highest honor certification in hair restoration surgery, which was awarded by the ABHRS (American Board of Hair Restoration Surgery), after successful completion of the exam conducted by that board. Now he is a "Diplomate of American Board of Hair Restoration Surgery". Apart from that he is also an active member of 'International Society of Hair Restoration Surgery' (ISHRS).
Dr. Madhu, is also one of the first doctors who introduced updated technologies in the field of hair restoration. Although he is primarily a Dermatologist and Dermato surgeon, his inclination and passion towards hair restoration has made him a successful hair transplant surgeon. The various advanced techniques, perhaps, motivated him into this field and currently he is an active hair restoration surgeon and has dedicated himself exclusively to this field, leaving behind his dermatology and cosmetic dermatology practice. Dermatology and related surgeries are now taken care by his team members /associate dermatologists who are experts.